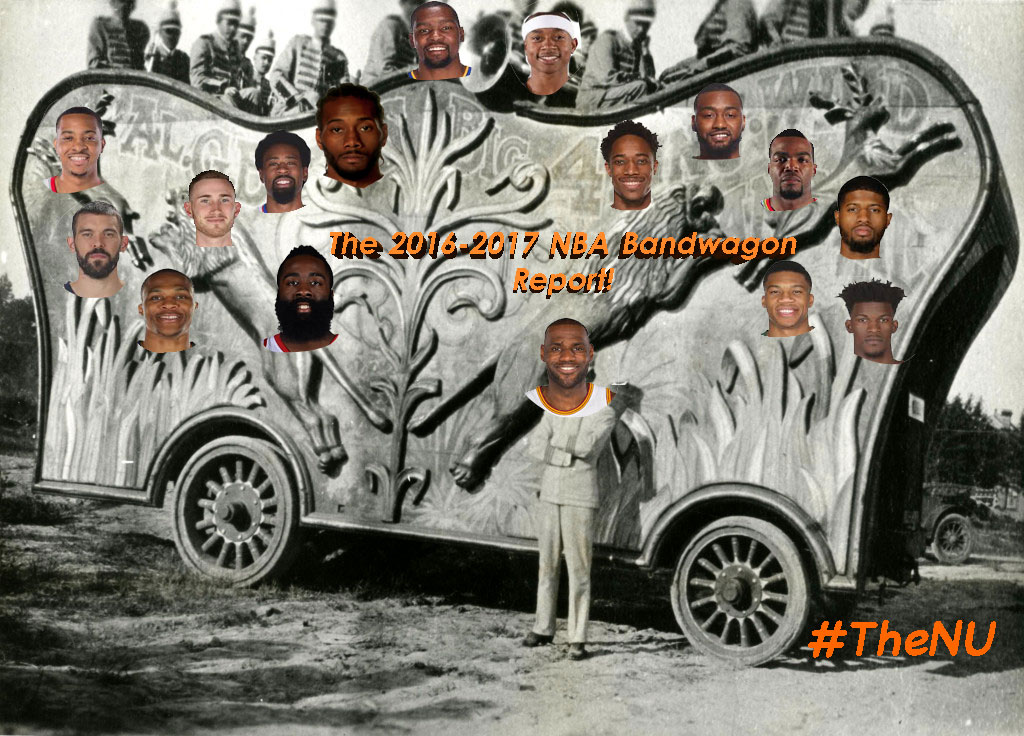 It's about to go down and back up again! The 2016-2017 NBA Playoffs are here, and your host is back with the 7th annual NBA Bandwagon Report. I'm here for you, even if you aren't here for me! So let's get rolling!
I'm not known to make a lot of predictions at the start of the NBA playoffs. I'm not a weatherman, I just put out menus like the NBA Lightweight Report. The 2016-2017 version of the NBA Lightweight Report, released in October, doesn't look too bad in hindsight! I had some misses. In the West, I had the Timberwolves making the playoffs instead of the Rockets. In the East, I had the Hornets and the Magic making the playoffs instead of the Bucks and the Bulls.
Now, to be clear, I don't expect any first round upsets – again, see my picks from October, as I don't have much to adjust. My role here today is to help all you casual fans find a squad for at least the next couple of weeks, and perhaps the next couple of months. I'm in the school that a team has to earn their bandwagon fans, so that's great for them. But while some bandwagons are super full, some are undeservedly shallow. We'll take a look at all of them:
The best of the "Bandwagon Cam" from the Golden State game!

?? https://t.co/YvSqTAKOsg pic.twitter.com/LLr1OpHzjM

— Milwaukee Bucks (@Bucks) November 22, 2016
Eastern Conference
#1 – Boston Celtics (8th offense, 12th defense) [9-7, 10-6, 11-5, 10-6, 11-5, +2]
Welcome back everyone #CelticsBandwagon

— Dan Greenberg (@StoolGreenie) December 19, 2016
I'm not surprised that the Celtics are the top seed in the East. I said it would happen in October, and if anything, I thought they'd be a little bit better than they were. Instead, my preseason Coach of the Year pick Brad Stevens saw Boston's defense slip from a top-five level last season to just outside of the top-ten this season. A big reason for that slide was the poor rebounding from the big men, including C Al Horford, who averaged a career-low 6.8 rebounds per game. But offensively, the Celtics have a player in Horford who can do everything, while PG Isaiah Thomas is everything. Boston rarely dominated this season, but they sit at the top of the East with a growing bandwagon. Now they just need someone to take the Cavaliers out for them.
#8 – Chicago Bulls (21st offense, 6th defense) [10-6, 6-10, 7-9, 8-8, 8-8, +2]
I'm technically a bandwagon Bulls fan this year because I just couldn't watch "Being Mary Jane's Husband" all season. #GoBulls

— Dj Collins (@DJayCollins) April 13, 2017
This bandwagon is so empty that you can feel the splinters. Chicago did just enough to get in, and as much as I feel for the Miami Heat, the reality is that the Bulls won the season series with them. The Bulls also had a better record against teams .500 or better (21-20) than they did against losing teams (20-21) this season. The good news for the Bulls is that they have a veteran heavy group with SF Jimmy Butler and former NBA champions SG Dwyane Wade and PG Rajon Rondo. But they arguably have the least inspiring head coach in the postseason field in Fred Hoiberg, and no team shoots worse than the Bulls.
#4 – Washington Wizards (9th offense, 20th defense) [6-10, 10-6, 12-4, 12-4, 8-8, +1]
What's funny about the Wizards turnaround is watching the bandwagon coming in hot.

— Ben Standig (@BenStandig) February 2, 2017
The Wizards still haven't won 50 games since 1978-1979. But they won their division for the first time since then, and after a 6-10 start, the Wizards dominated for the bulk of the season. PG John Wall was definitely an Eastern Conference version of Russell Westbrook for new head coach Scott Brooks, while SG Bradley Beal and SF Otto Porter combined to make nearly five threes a game while shooting better than 40 percent from deep. There's never a large bandwagon for Washington, mainly due to the fact that they haven't made a Conference Finals in the NBA's three-point line era. But their biggest issue entering the playoffs is their defense, which was bottom-five quality over the last month of the regular season due to their inability to protect the rim.
#5 – Atlanta Hawks (27th offense, 4th defense) [10-6, 6-10, 12-4, 7-9, 7-9, +1]
@FalconsFans_CHI I agree maybe we need the hawks to go on a winning streak to grab some bandwagon fans. Either way I'm always #TrueToAtlanta

— AJ Khah (@KingKhah) November 29, 2016
I can't believe this team has made the playoffs ten years in a row. Okay, I can … I said they'd be the 4th seed while having the Wizards as the 5th seed back in October. But the Hawks have the same lack of postseason pedigree as Washington, as their only Conference Finals appearance during this decade was a sweep vs. the Cavaliers in 2014. These Hawks are much different: no Al Horford, Jeff Teague, Kyle Korver, or DeMarre Carroll, all who are scattered elsewhere in the Eastern Conference playoff landscape. In are C Dwight Howard, PG Dennis Schroder, SG Tim Hardaway Jr., SG Kent Bazemore, SF Thabo Sefolosha, and rookie SF Taurean Prince. The Atlanta defense is elite, especially when it comes to takeaways, and PF Paul Millsap is healthy and solid on both ends of the floor. But as bad as Washington is on defense, the Hawks are worse on offense, mainly because of their awful turnover rate. The Hawks had some thrilling wins in April over the Celtics and Cavaliers, but only the Pistons were worse offensively than Atlanta in the last month of the regular season.
#2 – Cleveland Cavaliers (3rd offense, 22nd defense) [13-3, 12-4, 8-8, 10-6, 8-8, +0]
The Suns trolled Cavaliers fans with a hilarious "Bandwagon Cam." Video: https://t.co/p1GdKA6xza pic.twitter.com/Mz3a1Y0nK5

— For The Win (@ForTheWin) January 9, 2017
The Cavaliers are the defending NBA champions, and SF LeBron James is here, so the bandwagon is strong. Or is it?! Cleveland started the season off looking like they were going to win 60 games easily. But they hit a lull in midseason, and after brief improvement once everyone got healthy, they collapsed again. The poor play to end the season cost them the top seed in the conference, which may not be a big deal to James, but does highlight how bad this defense is. Forcing turnovers will be a major issue for the Cavaliers, especially when James or PG Kyrie Irving sit. The projected starting lineup that includes PF Kevin Love, C Tristan Thompson, and SG J.R. Smith also played poorly down the stretch. Maybe we're clearing the bandwagon. More likely: no one is leaving the Cleveland bandwagon until the NBA Finals, especially with no fewer than seven players 1 who all make at least 1.0 threes per game at a clip better than 35 percent.
#7 – Indiana Pacers (15th offense, 16th defense) [7-9, 8-8, 11-5, 7-9, 7-9, +2]
@ByTimReynolds Pacers are accepting bandwagon fans..fyi pic.twitter.com/fWKATPlJpc

— Bethany Murrell (@bt_phonehome) April 13, 2017
New Pacers head coach Nate McMillan has only won one playoff series as an NBA head coach, and it came back in 2004-2005 with the Seattle SuperSonics. But the Pacers are about to have a whole lot of new fans this month as the first team with a chance to end the defending champs' season. And McMillan has the experience of being on a #7 seed that upset a #2 seed – in fact, he was on the very first of only five #7 seeds to beat a #2 seed, back in his rookie season of 1986-1987 when the SuperSonics defeated the Dallas Mavericks.  Indiana's chances of knocking off the Pacers comes down to how far SF Paul George takes them, and George was piping hot to end the season. The only folks outside of Cleveland who may want to see the Pacers fall short are Lakers fans looking to somehow poach George (#FutureLaker). And yes, Lance Stephenson is here too, so there's that.
#3 – Toronto Raptors (6th offense, 8th defense) [10-6, 12-4, 7-9, 9-7, 11-5]
Jumping on the Raptors' bandwagon for playoff time? @donnovanbennett has everything you need to know.

? https://t.co/xXMpmrpYAp pic.twitter.com/BTKgbRobxK

— Sportsnet (@Sportsnet) April 13, 2017
The Toronto Raptors finally broke through and won a couple of Game 7s last year, so they don't go into this postseason with the same monkey on their back that overwhelmed them in the past. And now, they have a real shot to do something special with a fairly loaded roster, led by PG Kyle Lowry and SG DeMar DeRozan. The Raptors are the only team in the Eastern Conference with a top-ten offense and defense, and that was with Lowry missing 22 games. Toronto added PF Serge Ibaka to the starting lineup and SF P.J. Tucker to the bench in February, and the defense has been among the league's best over the last month of the season. If all of the relatively new faces mesh offensively, then this bandwagon could spike over the next month.
#6 – Milwaukee Bucks (13th offense, 19th defense) [8-8, 8-8, 5-11, 10-6, 10-6, +1]
.@DougRussell on #Bucks: "Bandwagon is filling up. Might be a good time to jump on now, when there is still room." https://t.co/JCf8lanXhd pic.twitter.com/6Lhpc8dH6u

— 620wtmj (@620wtmj) March 31, 2017
Bucks SF Giannis Antetokounmpo finished in the top-20 in points, rebounds, assists, blocks and steals in 2016-2017, leading Milwaukee in all five categories. They started recording steals and blocks in 1973. Antetokounmpo became the first player to finish in the top-20 in all of those categories since then. If that's not reason enough to get on the Bucks bandwagon, then I don't know what is! Milwaukee looked like an also-ran going into the All-Star break, but they were much better after the All-Star break. The Bucks are going to rely heavily on SF Khris Middleton, SG Tony Snell, and rookie PG Malcolm Brogdon to continue to knock down threes at a 40+ percent clip, and for backup C Greg Monroe to score off the bench in the paint. Other than that, Milwaukee's strong takeaway rate, and head coach Jason Kidd's experience of ruining Toronto in the postseason, the Bucks are going to be a shaky bandwagon to ride.
---
To break up this year's edition, #TheNU pays homage to the late Charlie Murphy:
---
Western Conference
#1 – Golden State Warriors (1st offense, 2nd defense) [14-2, 13-3, 14-2, 11-5, 14-2, +1]
.@Thisdayinsuck is the Twitter account that should be required reading for all bandwagon Warriors fans: https://t.co/nojHX3PugM pic.twitter.com/V6s7nbuGld

— Sam Laird (@samcmlaird) February 15, 2017
Anything less than 16-0 is a disappointment. Now that I had my statement – obviously, the Warriors are very good. They're the best shooting team in the league, as SF Kevin Durant joined forces with the Splash Brothers tandem of two-time MVP PG Stephen Curry and SG Klay Thompson. PF Draymond Green anchors a defense that is the hardest in the league to shoot well against. And backup SF Andre Iguodala leads a bench that ensures that the Warriors don't lose any ground when they go small or need to rest a perimeter All-Star. Now, this bandwagon is quite full, but they also had to deal with the scorn of blowing the first ever 3-1 lead in the NBA Finals. But you can't blow a 3-1 lead if you win every … single … game. Anything less is unacceptable.
#8 – Portland Trail Blazers (11th offense, 21st defense) [8-8, 5-11, 8-8, 7-9, 12-4, +1]
Take heed, bandwagon jumpers. pic.twitter.com/iYtjiQV9Nm

— Trail Blazers (@trailblazers) December 27, 2016
The Trail Blazers are (social) media darlings, so you won't find many folks to call them out for what they were this season: inconsistent underachievers. They were poor defensively for most of the season, and while SG C.J. McCollum and PG Damian Lillard are lethal on offense, most of the role players were either hurt or ineffective for major stretches of the season. But GM Neil Olshey stole C Jusuf Nurkic from Denver, and Nurkic played a major role not only in the defense's improvement, but also in terms of giving Portland an interior presence on offense. But now, Nurkic is not fully healthy due to a leg injury. Lillard and McCollum average 50 points per game, but it will be tough for Portland to fill up the bandwagon if SF Maurice Harkless and backup SG Allen Crabbe are the only other available players who average double figures scoring.
#4 – LA Clippers (4th offense, 13th defense) [14-2, 8-8, 8-8, 8-8, 11-5, +2]
Wow, Clippers start looking better in the past few games and @AndrewMillerNBA is right back on the bandwagon, I see how it is. https://t.co/0bDRk5fZ7S

— Russ ?? (@zrpClippers) March 31, 2017
People have been vulturing for this team to break up. They had another 50-win season, as they've had every year under head coach Doc Rivers. The team has won at least 60 percent of their games every season since PG Chris Paul arrived in 2011 to join PF Blake Griffin and C DeAndre Jordan. The Clippers are one of 23 NBA teams in NBA history to have at least five consecutive seasons of at least 60 percent wins. So far, only the Clippers have yet to even advance to a Conference Finals:
As they do every year under Rivers, the Clippers had to get through a season with one of Paul or Griffin injured for a major part of it. The team's start was never going to be sustainable, but the Clippers played inconsistent basketball for much of the season. As they do every year, they figured it out once they got healthy for a final regular season push, and no team had a better offense than the Clippers down the stretch. The Clippers aren't an easy bandwagon to ride, as no team has more playoff demons than they do – or worse support from their own home market.
#5 – Utah Jazz (12th offense, 3rd defense) [8-8, 11-5, 11-5, 10-6, 9-7, +2]
@NBA @warriors At least be a bandwagon of another team like *cough cough* the Jazz #TakeNote

— Korrina (@ShalourBlader) April 5, 2017
The Jazz are back in the postseason after a four-year drought, the longest in Utah since their first four seasons. While SF Gordon Hayward led the offense with 21.9 points per game, C Rudy Gobert is their biggest difference maker. Veteran PG George HIll is the biggest X-Factor for the team that operated at the slowest pace in the NBA. Jazz head coach Quin Snyder gets a lot of respect for getting the Jazz to 51 wins despite Hill, SG Rodney Hood, and PF Derrick Favors missing 88 games combined. Gobert anchors an elite defense, but durability is still a question mark for Utah entering the postseason. The Jazz and Clippers also are two of only four teams that didn't make a transaction outside of a D-League assignment since the regular season began, along with the Celtics and Detroit Pistons. If you're looking for the "intangibles" bandwagon, maybe Utah is it.
#2 – San Antonio Spurs (7th offense, 1st defense) [13-3, 13-3, 11-5, 13-3, 11-5, +0]
I've put in for a small, unobtrusive seat on your bandwagon, @MichelleDBeadle…As I have said for years, basketball for grown ups. #Spurs.

— Full Dissident (@hbryant42) March 7, 2017
20 years in a row with at least 60 percent wins under head coach Gregg Popovich. That's by far the longest streak in the NBA, but this past season was the first without Tim Duncan. Instead, it was my MVP pick SF Kawhi Leonard as the clear spearhead of the Spurs operation. Folks love to dismiss the Spurs for their lack of sensationalism, which is a good indication of where fans' priorities are at. Leonard didn't have a single triple-double this season, but he averaged a career-high 25.5 points per game while continuing to dominate for the best defense in the NBA. Now, there are concerns here. San Antonio's offense sputtered down the stretch, and it highlights a big problem: outside of Leonard, the Spurs don't have much in the way of scoring upside. PG Tony Parker and PF LaMarcus Aldridge took steps back, and while the Spurs have a powerful bench with PG Patty Mills, C Pau Gasol, SF Manu Ginobili, and PF David Lee, many of them can be jumpshot dependent.
#7 – Memphis Grizzlies (19th offense, 7th defense) [10-6, 10-6, 7-9, 9-7, 7-9, +0]
lmao, i would never bandwagon to grizzlies. their luck with injuries is weird. https://t.co/Tu11YRgbPT

— michelle ? (@michelletos) January 14, 2017
The good news is that the Grizzlies found a way to remain a top-ten defense and be a playoff team for the seventh consecutive season with new head coach David Fizdale. The bad news is that their offense never really came around. While C Marc Gasol shot more threes 2 , the Grizzlies were the absolute worst team in the league at scoring in the restricted painted area. The ugly? Well, it's nice that Gasol, PG Mike Conley, and backup PF Zach Randolph are healthy. But the team got nothing from SF Chandler Parsons before losing him to season-ending knee surgery, while SG Tony Allen is out indefinitely due to a calf injury.  Allen's injury especially hurts as the Grizzlies were playing well with he and 40-year-old phenom SF Vince Carter in the lineup together. The Grizzlies have been swept by the Spurs under three previous head coaches. We'll see if Fizdale can avoid that fate with his team limping into the postseason.
#3 – Houston Rockets (2nd offense, 18th defense) [10-6, 13-3, 11-5, 10-6, 10-6, +1]
Plenty of *cough cough* bandwagon *cough cough* Rockets fans at Barclays tonight.

— Kristian Winfield (@Krisplashed) January 15, 2017
The Rockets were the biggest surprise of this NBA season for me. I didn't have them making the playoffs after a year where they finished .500, were meekly eliminated in the postseason, changed head coaches, and lost Dwight Howard in free agency. But head coach Mike D'Antoni helped mold PG James Harden into an MVP candidate, while former Pelicans PF Ryan Anderson and SG Eric Gordon found a way to stay healthy and make more than 200 threes each. The Rockets reset the NBA record for most threes made in a season, which also means that they broke the NBA record for threes attempted too. The mid-range doesn't exist to the Rockets, the fastest paced team in the postseason, and Harden's ability to get to the FT line for 9.2 of his 29.1 points per game is the main reason why the Rockets have the best offense in the league outside of Golden State. The main concern for Houston is their shaky defense, and no Western Conference playoff team was worse on that end of the court than Houston over the last month of the season.  If you're on this bandwagon, it's because you are banking on D'Antoni turning around a 1-12 record in the playoffs dating back to his last season in Phoenix (2007-2008).
#6 – Oklahoma City Thunder (17th offense, 10th defense) [8-8, 12-4, 8-8, 7-9, 11-5, +1]
Oklahomans… take pride in the fact that there are people in other cities being accused of being bandwagon Thunder (Westbrook) fans

— Robert White (@RobWhiteIV) April 10, 2017
This is the bandwagon of PG Russell Westbrook, whose record-breaking triple-double pursuit drove people crazy – including himself at times. Westbrook should be the favorite to win the MVP award after being placed in a unique situation and staying healthy enough to dominate. I felt like the Thunder underachieved this season, if we're being honest, and that's with the Thunder winning the most games in the NBA that were decided by 3 points or less 3 Westbrook (438) and Harden (464) are the first players ever with more than 400 turnovers in an NBA season, and when you combine that with Oklahoma City's league-worst three-point accuracy (even worse than the Bulls!), you have an offense that scares nobody despite the presence of Westbrook. But the Thunder are the best rebounding team in the NBA, and they led the league in points in the paint as well. Oklahoma City is huge, and they are actually better on the fast break than Houston.  The Thunder (and Grizzlies) are set up to have the toughest road to the NBA Finals, but if the question is whether you should jump on this bandwagon, then the answer is probably, "Why Not?" 4
-1SKILLZ