There are four NFL games this weekend. Savor them, because there are only three more the rest of the season. 1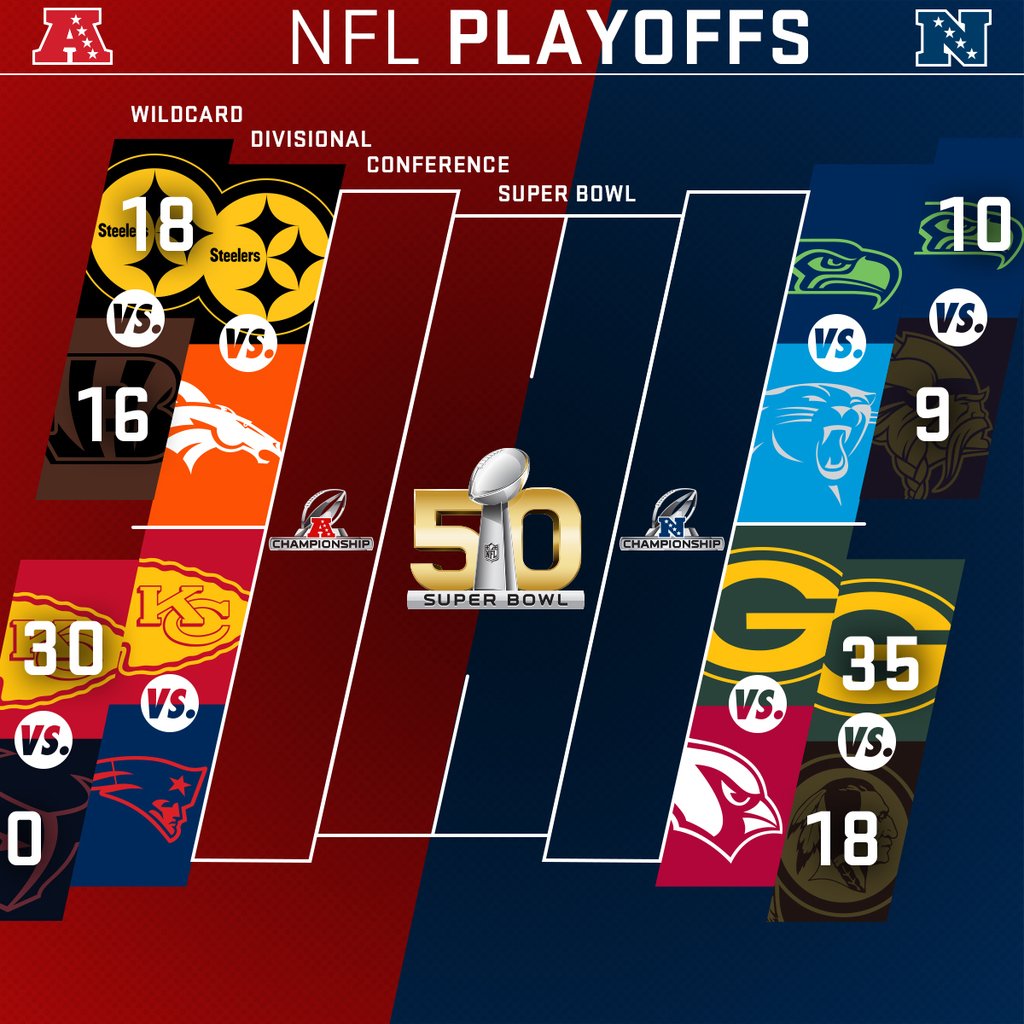 It didn't all go down smoothly, but I went 4-0 on my picks for the Wild Card weekend. That also means that I don't need to re-shuffle the deck with my picks for this weekend! They were made last week for the viewing public, so I'll rehash what I said last week:
… Pittsburgh would defeat Cincinnati and Denver before the AFC Championship; two teams they defeated in December.  Seattle would go through Minnesota and Carolina before the NFC Championship.  Who will Pittsburgh and Seattle meet in the Conference Championships?

I have Kansas City repeating a Week 1 victory over Houston before going to New England and upsetting the Patriots. The Chiefs would then host the Steelers in the AFC Championship, losing a Week 7 rematch.

The Packers would win in Washington to set up a Week 16 rematch in Arizona, where the Cardinals would wash them again. The Cardinals would then host the Seahawks in the NFC Championship, where the Seahawks would beat them for the second straight time.
Now, I'm not going to take credit for everything. I said Kansas City would take advantage of the turnover margin in Houston, but I didn't think Houston would be in a hole 11 seconds into the game due to special teams. The Steelers didn't deserve to win Saturday night, but the Bengals literally handed them the game with a lost fumble and 30 yards of penalties to help set up a game-winning FG. The Seahawks are beneficiaries of another lost fumble, followed by what may be the shortest missed potential game-winning FG in NFL postseason history. And of all of those games, Washington had the largest blown lead of any Wild Card loser. 2
From NFL researcher @LawMurrayTheNU: This is the first time ever that all road teams won on Wild Card Weekend.

— Chris Wesseling (@ChrisWesseling) January 11, 2016
I will take credit for saying that, for the first time, all four road teams would win on Wild Card Weekend for the first time since the postseason field was expanded in 1990. All four QBs making their first career postseason start lost last weekend. Now, this weekend sets up four QBs who were former #1 overall picks (Alex Smith, Carson Palmer, Cam Newton, Peyton Manning) going up against four QBs who are Super Bowl champions (Tom Brady, Aaron Rodgers, Russell Wilson, Ben Roethlisberger). Here's another look at some of the QBs playing this weekend:
Here are the largest 2nd-half dropoffs in passer rating this season. A few QBs playing this weekend: pic.twitter.com/05TEGUuFUa

— Law Murray (@LawMurrayTheNU) January 16, 2016
Flipside – the largest 2nd-half improvements in passer rating this season. 2 QBs going head-to-head Sunday: pic.twitter.com/u9fwp6LTUB

— Law Murray (@LawMurrayTheNU) January 16, 2016
Let me layout the gameplan for the Divisional round:
Kansas City at New England: This is the only game this weekend that isn't a regular season rematch, and it is also the only game in which the two teams are meeting in the postseason for the first time. The last time the Chiefs went to New England, they were smacked 34-3 on Monday Night Football in 2011, ceding two TDs to Patriots TE Rob Gronkowski. Last season, at Arrowhead Stadium in Kansas City, the Chiefs hosted the Patriots on Monday Night Football and returned the favor with a 41-14 blowout. 3 The Patriots had to deal with RB Jamaal Charles that day, but Kansas City didn't have WR Jeremy Maclin either; New England gave up 90+ yards of offense to Charles, RB Knile Davis, and TE Travis Kelce that day. This won't be a blowout, but the combo of pressure from Kansas City combined with what I see as shaky physical peaks from New England (Brady, Gronkowski, WR Julian Edelman) lead me to believe that the Chiefs can control this game and keep their winning streak going another week.
Green Bay at Arizona: In Week 16, the Packers were humiliated in Arizona on both sides of the ball. The Cardinals won 38-8, with Arizona QB Carson Palmer throwing 2 TDs while Green Bay QB Aaron Rodgers had two lost fumbles returned for scoop and scores. It was the worst loss by Green Bay with Rodgers as the starting QB. Green Bay gets LT David Bakhtiari back, which should improve an offensive line that allowed nine sacks in Arizona, but WR Davante Adams' knee injury means that WR Jared Abbrederis will have to step up against Arizona's top-8 pass defense. This should be closer, but look for Palmer to pick up his 1st career postseason win, with a big assist coming from rookie RB David Johnson against Green Bay's annually sorry run defense.
Seattle at Carolina: This is the best matchup of the weekend, featuring two record-breaking mobile QBs, the two-time defending NFC Champions, and the NFL's best team. It's also a matchup between Seattle's top-scoring defense vs. Carolina's top-scoring offense. It's a rematch of Carolina's comeback victory in Seattle from Week 6, and the 2014 Divisional at Seattle that saw Seahawks QB Russell Wilson throw 3 TD passes and SS Kam Chancellor return a Cam Newton INT 90 yards for a TD. I expect the scoring to be lower, which favors Seattle, as they're getting RB Marshawn Lynch and TE Luke Willson back in the lineup. But the Seahawks are going to have to double team TE Greg Olsen to prevent Newton from having a security blanket when Carolina doesn't run.
Pittsburgh at Denver: This is the worst matchup of the weekend. The Steelers have the worst defense of the eight teams remaining, their coaches are glorified sub-bosses, their top two RBs and WR will miss the game, and their dramatic QB is playing with an injured shoulder. So why am I picking the Steelers to beat the Broncos again, as they did in Week 15? The Broncos are starting QB Peyton Manning, the worst QB in the NFL this past season; expect the Pittsburgh defense to win the turnover battle and the field position battle. Manning has always been a good bet for a postseason one-and-done, and he's coming off his 9th in his last postseason appearance (which came off a bye); the Steelers should be thrilled to see him, especially if the temperature stays below 40 degrees. 4