The NFL announced Monday that 32 compensatory draft picks were awarded to 14 NFL teams.
Compensatory picks are awarded based on teams losing more free agents than they gain – an agreed upon system determined by "salary, playing time and postseason honors." No team can get more than four compensatory picks.
In other words, if a team loses five players in free agency, and they pick up only two, then that team is eligible for three compensatory draft picks.
Now, I covered last year why free agency is very hit-or-miss for teams trying to win a Super Bowl, except in the case of signing defensive backs. Go ahead and add CB Darrelle Revis to that list of best free agent acquisitions. Revis became the second player in NFL history to be an All-Pro in his first and only season with a team, then leave that team the following offseason after winning a Super Bowl. The other was fellow CB Deion Sanders.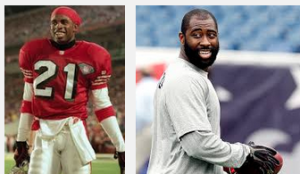 Here's the interesting part of this: Revis was released by the Tampa Bay Buccaneers! So when the Patriots signed him last March, he did not count against their net gains in free agency. The Patriots, winners of Super Bowl XLIX, lost four players on the open market and gained two. They lost RB LeGarrette Blount to Pittsburgh 1, LB Dane Fletcher to Tampa Bay, LB Brandon Spikes to Buffalo, and CB Aqib Talib 2 to Denver. The Patriots gained CB Brandon Browner from Seattle and WR Brandon LaFell from Carolina.
So not only do the Patriots win the Super Bowl – they were awarded two compensatory picks. And when they lost Talib, they lost a player who signed a six-year, $57 million contract (salary), played in 15 games (playing time), and was awarded with an invitation to the Pro Bowl (postseason awards). Nice signing for the Broncos … but a nice free agent loss for the Patriots, who were compensated with the 97th pick in the 2015 NFL Draft! That's the 33rd pick of the third round.
It's worth noting that of the 14 teams to be awarded compensatory selections, ten of them made the playoffs! In fact, the only team that missed the playoffs with a losing record in 2014 to get compensatory picks this year were the Saint Louis Rams:
As you can see, the Baltimore Ravens are on this list once again. The Ravens and general manager Ozzie Newsome clean up in the compensatory draft process. Since these selections were awarded starting in 1994, the Ravens have been awarded 44 compensatory draft picks – and the Ravens didn't enter the league until 1996. The Packers, the only team this offseason that has not signed a free agent from another team, are second since 1994 with 35 compensatory selections. The Cleveland Browns (six) and New Orleans Saints (10) have the fewest. The Saints managed to win a Super Bowl in the last 20 years 3, but we don't even need to discuss Cleveland's futility, do we?
This is an interesting way of looking at building a roster. Having a lot of draft picks does not mean you will be a good team. Ozzie Newsome has done an outstanding job of finding contributors in the draft, then letting them walk and replacing them in future drafts. Last offseason, the Ravens only signed S Darian Stewart while letting TE Ed Dickson, CB Corey Graham, S James Ihedigbo, DE Arthur Jones, and OT Michael Oher walk. This offseason, it's the same deal: the only veteran the Ravens picked up was former Houston S Kendrick Lewis, while QB Tyrod Taylor, WR Torrey Smith, TE Owen Daniels, LB Pernell McPhee, and Stewart walked.
You may think the Ravens lost in free agency. But perhaps that's part of the plan – and it's hard to argue with the on-field results for the Ravens, especially with the assistance of those extra draft picks.
temporarily! ↩
The player Revis would replace ↩
Worth noting that the Saints haven't been to a conference title game since winning the Super Bowl, and they are having a fire sale this offseason, highlighted by the Jimmy Graham trade ↩