I wrote three Olympic Winter Games posts from Sochi on this website. That was easy – I was actually in Sochi and doing things.
I got home Tuesday night.  Jetlag became an issue again. I was going to fight it, using the adrenaline of my Russia experience.
Only this time, I was back in real life. Back in America. Back in the mix of everyone else's schedule.
You see – I had never come back to reality before. I was on the other side of the Winter Olympics. The one where it ends. I had overweight luggage and a mind full of cool experiences to make sense of.  But the world wasn't going to just wait for me while I made sense of everything. My first morning back in America was hump day in February. Folks are still in class and work and life. No one is on vacation. Not that I was on vacation, but I had vacated.
The only other time I had left the country was in the summer of 2003. I was in the middle of high school, summer after sophomore year, when I went to Spain for three weeks. I was on a homestay program with about 25 other students around my age. It was a big deal and a turning point in my life. I developed a sense of writing and voice and involving the characters in my life after I got back from Spain. I wound up writing to those folks on the first of the month every month for seven years. There are still some who feel like I should have never stopped the MADDSKILLZ Update.
But the first MADDSKILLZ Update ever was August 2003. This is my first turn of the month since returning. It's March. Beware, the Ides of March! Okay, not really time for that. But March comes in like a lion, and it has a way of sweeping up the thoughts of the previous months under the rug. Thoughts like the Super Bowl, the NBA All-Star Game, Valentine's Day, and Winter.
Especially the Winter Games.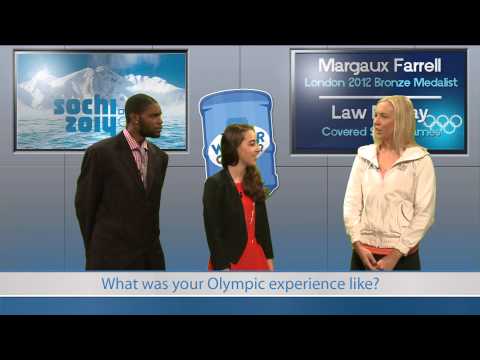 Before March got here, I had one more chance to talk about the Olympics experience. Margaux Farrell, an Olympic swimmer, and I shared the platform as I came back to The Water Cooler. The show that brought me on in a specialized NBA role a year ago had me talk about snowboarding. When Rachel notified me of the segment, I had so many thoughts in my head:
How do I talk about three weeks in three minutes?
What is the most important thing that happened in Sochi?
Why did these games matter?
What's going to stick with me?
Why should anyone care after this week?
Perhaps I will answer these questions with depth going forward. TV makes it a little hard. Being back to reality makes it a little hard. But then again, reality might be the added perspective needed to make sense of Sochi, the Winter Olympic Games, and specifically the 2014 event in Russia. My thoughts will be in competition with March Madness, NFL free agency, and the NBA playoff push. I'm not naive to that fact. It's my #PostSochiProblem.
But I'm really looking forward to owning my experience from Russia and communicating it for years to come. Even if that means moving on and going back to what I was writing about before I left – after this post.