One of the biggest differences between the NBA and the NFL offseason: there are 12 weeks between the Super Bowl and the NFL Draft. There aren't even 12 days between the final game of the NBA Finals and the NBA Draft. This wasn't a banner year for me and NBA predictions, 1 but once the 2015 NBA Finals were matched up, it was like shooting fish in a barrel. It took six games instead of five, but you all knew the Golden State Warriors would defeat the Cleveland Cavaliers to win their fourth title in franchise history, second since leaving Philadelphia in 1962, and first since 1975.
The 2015 Finals were more entertaining than they should have been. The first two games went into overtime, the first time that happened in the NBA Finals. Cavaliers PG Kyrie Irving suffered a season-ending knee injury in the Game 1 overtime loss, but the Cavaliers earned a split in Golden State behind SF LeBron James' 39-16-11 triple-double. James' 40 and PG Matthew Dellavedova's 20 points in Game 3, combined with Golden State's inability to get to the line 2 allowed Cleveland to take an unexpected 2-1 series lead.
In Game 4, Warriors head coach Steve Kerr decided to remove C Andrew Bogut from the starting lineup, utilizing a starting lineup of MVP PG Stephen Curry, All-Star SG Klay Thompson, usual 6th man SF Andre Iguodala, usual SF Harrison Barnes at PF, and usual PF Draymond Green at C. The series wasn't close after that. Despite James' incredible onslaught of volume that earned him Finals MVP votes, the Cavaliers offense struggled all series. And after the lineup change, the Warriors offense opened up. Curry scored 37 points in a Game 5 blowout win, but my original pick to win Finals MVP didn't get a single vote. 3 That would go to Iguodala, who didn't start a single game until Game 4, but combined consistent team defense, hot three-point shooting, and supreme athleticism to swing the series – showing once again that while PG is the most dispensable position in the league, SF is the most important.
We're definitely in the 21st Century. For one, none of the 15 Warriors players played in the 1990s, making the Warriors the first NBA Champion that didn't have a single player who played in the 1990s. Secondly, the Warriors had six players that played in this Finals who were draft lottery picks in 2004 or later: Curry, Thompson, Barnes, Iguodala, Bogut, and PG Shaun Livingston. 4 Previously, since the 2004 NBA Draft, the only lottery picks to win championships were Andrew Bynum, Adam Morrison, and Corey Brewer. And, of course, there are the threes. Both teams bombed away, as you knew they would. The difference? There are two. The Warriors made 36 percent of their 186 attempts (a ridiculous 31 per game). Yes, Golden State made it crystal clear that spacing the floor and shooting dozens of threes is just about required now. But before you go validating Mike D'Antoni and Steve Nash like Kerr did, and before you go troll Phil Jackson about threes again, keep in mind that the Cavaliers made only 29 percent of their 167 three-point attempts (nearly 28 attempts per game).
People are going to gravitate towards Golden State's offense and shooting as a mandate that all players should be shooting five threes a game. Folks are going to talk about a positionless NBA that doesn't require big men. I say this every year, though – Offense wins games, defense wins championships. Your personnel is validated by your ability to defend. And the Warriors were the best defense in the NBA. The lineup change in Game 4 opened up Golden State's offense, but the Warriors defense was consistently solid throughout the series. Defense is why I respected Mark Jackson's influence on this Warriors team so much – a lot of people who clown Jackson's tenure as head coach of the Warriors don't even consider the eight coaches that preceded him and their terrible defenses. 5 But defense is also why I respect Kerr – he got his three-point shooting, point guard led, top-paced, ultra-deep squad to defend better than any other team in the league in his first season. As for Cleveland? They ran out of players – worse than James' 2014 Heat. C Anderson Varejao was lost in the regular season with a torn Achilles, PF Kevin Love was lost in the playoffs with a shoulder injury, and Irving was lost in the Finals. Irving played 44 minutes in the NBA Finals. Nine Warriors played more than that. Only seven Cavaliers did – SF Shawn Marion 6 and C Brendan Haywood never left the bench. Cavaliers head coach David Blatt watched C Timofey Mozgov go off for 28 points in Game 4, then gave him only nine minutes in Game 5. The criticism piles up on James, but these Cavaliers achieved just by winning the East, let alone taking a lead against the clear-cut best team in basketball in June.
LeBron James isn't 2-4 in the Finals. LeBron James' teams are 2-4 in the Finals, and there's a world of difference between those statements.

— Kevin Pelton (@kpelton) June 17, 2015
Now for this draft. Sure, the collegians (and foreigners) are going to have their moment. But the veteran player movement is going to be dramatic. Instead of focusing on prospects, I will focus on each team's major weakness in my eyes and go from there. The NBA is a free agent league. You win or lose based off of the big money and trades. Although – it helps to draft the right players when given the opportunity. I wonder if there's a way to drive that point home …
Hopefully, this year's draft will have better rookie year luck than last year's rookies. Just in the top-seven: SF Andrew Wiggins won Rookie of the Year, but he was traded from Cleveland to a team that lost an NBA-high 66 games; PF Jabari Parker tore his ACL; No one knows what's going on with C Joel Embiid's foot after he missed the entire season; PF Aaron Gordon broke his foot in November and missed 35 games overall; Dante Exum shot 35 percent from the field; PG Marcus Smart sprained his ankle in his fifth career game, costing him 10 of the 15 games he missed; and PF Julius Randle fractured his leg 14 minutes into his career. Without further adieu, let's get on with the script for all 30 teams – including the only one to win 70 80 games this past season:
TEAMS DRAFTING IN THE LOTTERY (also see The Silver Linings)
Minnesota Timberwolves (#1, #31, #36): The Timberwolves were the worst defensive team in the NBA, allowing the highest FG% in the league while grabbing the fewest defensive rebounds. PF Gorgui Dieng led the team in rebounds and blocks, but C Nikola Pekovic can't play a full season or block shots, while PF Kevin Garnett (free agent) is more franchise relic than anything else after finishing his 20th NBA season. Karl Anthony-Towns would seem to be the pick here.
Los Angeles Lakers (#2, #27, #34): The Lakers had the second-worst defense in the league, and they need a respectable inside presence after allowing the second-highest FG% in the league. C Jordan Hill can rebound, but he's not a shot blocker, and Los Angeles holds a team option on his deal for next season. Jahlil Okafor's offense is well ahead of his defense, but he would fit the bill as an interior presence. The Lakers are the only NBA team that has never drafted in the top-five since the lottery was introduced in 1985.
Philadelphia 76ers (#3, #35, #37, #47, #58, #60): The 76ers have arguably the bleakest roster situation in the NBA. They traded 2013-2014 Rookie of the Year PG Michael Carter-Williams in February, C Joel Embiid's season is in question due to complications with his foot injury, while fellow 2014 lottery pick PF Dario Saric is going to stay in Europe for another season. PG Tony Wroten is coming off an ACL tear, and his assist:turnover ratio is an issue. The 76ers have led the NBA in turnovers for two seasons in a row. D'Angelo Russell can't cure all of those problems by himself, but he's the obvious pick for GM Sam Hinkie, who was in Houston when the Rockets acquired another southpaw guard who was drafted 3rd overall in James Harden.
New York Knicks (#4): The Knicks scored the fewest points in the league last season, and while they were in the bottom-ten in threes attempted, that's not close to their biggest problem. New York attempted the second-fewest free throws in the league; SF Carmelo Anthony missed 42 games and still shot 81 more free throws than the next closest player. Stanley Johnson would be a great fit here, and they could trade down to get him.
Orlando Magic (#5, #51): The Magic attempted the fewest free throws in the league for the second time since trading Dwight Howard in 2012, and SF Tobias Harris is a restricted free agent. Justise Winslow would fit here.
Sacramento Kings (#6): The Kings are tripping with these trade rumors involving All-Star C DeMarcus Cousins. Hopefully Sacramento holds onto Cousins, who inexplicably led the team in total steals despite being a big man who missed 23 games last season. PG Darren Collison was hurt for most of the year, but head coach George Karl has always utilized multiple PGs, and Emmanuel Mudiay would give Sacramento a chance to improve their bottom-five ability to force turnovers.
Denver Nuggets (#7, #57): The Nuggets haven't had a top-ten draft pick since 2003 when they selected Carmelo Anthony, and their defense sunk to bottom-five levels in 2014-2015. No team fouls more than the Nuggets, and while SF Danilo Gallinari finally made it back from his knee surgeries, he's entering a contract year. Players like PG Ty Lawson, PF Kenneth Faried, and SG Wilson Chandler are on the block as well. I wouldn't be surprised to see Mario Hezonja end up here.
Detroit Pistons (#8, #38): The Pistons have the Eastern Conference's longest active postseason drought at six seasons. The Pistons have to make a decision at PG between Reggie Jackson (restricted FA) and Brandon Jennings (Achilles), while SF Caron Butler was traded to Milwaukee with PF Shawne Williams for PF Ersan Ilyasova. PF Greg Monroe is an unrestricted FA and seems likely to walk. The Pistons were a bottom-ten team at defending the three based on percentage, while SG Kentavious Caldwell-Pope led the team in minutes. Devin Booker is a better shooter than Caldwell-Pope was coming out of the SEC two years ago, so perhaps head coach/president Stan Van Gundy brings the Michigan native in.
Charlotte Hornets (#9, #39): The Hornets have already been plenty busy, acquiring PF Spencer Hawes from the Clippers in exchange for SG Lance Stephenson, while trading SG Gerald Henderson and 2014 lottery pick Noah Vonleh to Portland in exchange for SF Nicolas Batum. Charlotte wasted another season ranked in the top-ten defensively due to its league-worst 32 percent three-point shooting. Batum actually shot a career-low 32 percent in Portland last season, so they need a contingency plan. That may include another "shooter" who admittedly had a down year in that department in R.J. Hunter, who Charlotte could move down for.
Miami Heat (#10, #40): Five years ago, the Heat re-defined the NBA by setting themselves up for The Decision. Now? The team of the decade may be staring at the end of an era. SG Dwyane Wade is reportedly unhappy and has a player option, PG Goran Dragic is an unrestricted free agent, SF Luol Deng has a player option, and C Hassan Whiteside is entering a contract year. Miami also had the fewest rebounds in the league for a third straight season, while PF Chris Bosh is recovering from blood clots that ended his season prematurely. He almost certainly won't fall this far, but I'd love to see Kristaps Porzingis land here.
Indiana Pacers (#11, #43): The Pacers exceeded expectations and still managed to defend at a top-ten level this past season, but they could not overcome their bottom-ten offense. Indiana ranked 23rd in FG%, and C Roy Hibbert was a big part of the problem, making only 45 percent of his field goal attempts. Willie Cauley-Stein would offer a defensive presence in the case Hibbert opts out, while being a better athlete right away.
Utah Jazz (#12, #42, #54): Here's a fun fact for you: PG Trey Burke was the only player in the league this past season to take at least 1,000 shots but fail to score 1,000 points. This has been done only one other time since 1970: by Chris Jackson (later known as Mahmoud Abdul-Rauf) in his rookie season with the Nuggets in 1990-1991. Burke also led the NBA in field goal attempts by a player who had more field goal attempts than total points as a rookie in 2013-2014, so clearly this isn't a fluke. Utah also ranked in the bottom-five in assist:turnover ratio, so I'd try again at this position and get Cameron Payne in there.
Phoenix Suns (#13, #44): Phoenix missed the playoffs for a fifth consecutive season, tying a franchise-long drought. The Suns were a below average team defensively again, particularly struggling to keep teams off the free throw line, and they could use an upgrade on that end of the floor. SF Marcus Morris had to start 35 games last season. Kelly Oubre would be an intriguing fit here due to his physical skills and Phoenix's fast paced style of play.
Oklahoma City Thunder (#14, #48): Oklahoma City missed the playoffs despite a season that saw PG Russell Westbrook finish fourth in the MVP voting. The last time a player finished at least fourth in the MVP voting despite his team missing the postseason was 1987-1988, when Charles Barkley also finished fourth despite the Philadelphia 76ers missing the playoffs. Those 76ers made a coaching change midseason, while the Thunder replaced Scott Brooks with new head coach Billy Donovan. Brooks was criticized often for the Thunder's unimaginative offense, but their defense was in the bottom-ten in forced turnovers, despite Westbrook's career-high 2.1 steals per game average. I could see the Thunder getting Tyus Jones with this pick.
THE OTHERS (also see The Bandwagon Report)
Brooklyn Nets (#29, #41): The Nets were beaten by the Atlanta Hawks in the first round, and to add insult to injury, the Hawks exercised their right to swap first-round picks with Brooklyn due to the 2012 trade that gave the Nets SF Joe Johnson. The Nets were in the bottom-ten in the league at defending the three, and they started rookie SG Markel Brown 29 times. Brooklyn has bigger issues than the draft, though, as C Brook Lopez can opt out and PF Thaddeus Young is an unrestricted FA.
Boston Celtics (#16, #28, #33, #45): The Celtics made the playoffs, but they were brutal when they got there, and their offense lacks scoring. They were one of the worst teams in the NBA last season at getting to the free throw line, and they started SF Evan Turner 57 times last season.
Milwaukee Bucks (#17, #46): The Bucks had a remarkable turnaround last season, despite Jabari Parker's torn ACL and the release of C Larry Sanders. Milwaukee also traded PG Brandon Knight and acquired PG Michael Carter-Williams, but the offense was incredibly turnover-prone, more than any other team except Carter-Williams' former team in Philadelphia.
New Orleans Pelicans (#56): New Orleans snuck into the playoffs, but they were swept out by the eventual champion Warriors, who were nice enough to allow assistant coach Alvin Gentry to replace Monty Williams as Pelicans head coach. Gentry has earned respect for his offensive strategy, but the Pelicans could use some of Golden State's defense after New Orleans finished in the bottom-five defensively last season. PG Jrue Holiday has to get healthy, as he has played in only 74 games since he was traded from Philadelphia in 2013 for two 1st round picks. Holiday has the ability to force turnovers, and New Orleans was in the bottom-five in that category last season. The trade with Houston to acquire C Omer Asik cost the Pelicans their third first round pick in a row.
Washington Wizards (#19, #49): The Wizards continue to be bad offensively despite the All-Star status of PG John Wall, who averaged a career-high ten assists per game in 2014-2015. Wall had 304 turnovers, more than any other PG in the league, and he could use some relief from another decent ballhandler and playmaker.
Toronto Raptors (#20): Heads didn't roll in Canada after the Raptors no-showed against Paul Pierce and the Wizards, which was a surprise. Toronto may have had a handful of accomplished three-point shooters, but their bottom-ten defense needs shoring up, especially when it comes to rebounding. PF Amir Johnson is an unrestricted free agent, and his rebounding fell off for the second-straight season.
Dallas Mavericks (#21, #52): Speaking of bad rebounding teams, it may be time to bring PF Dirk Nowitzki off the bench after he grabbed fewer than six rebounds a game for the first time since his rookie season. No team allowed more offensive rebounds than the Mavericks. Change comes to this team every offseason: the only starter besides Nowitzki that isn't a free agent is SF Chandler Parsons, who is coming off of knee surgery.
Chicago Bulls (#22): Even though Chicago's defense slipped below optimal levels last season, the improved offense still cost them eventually. The Bulls were 22nd in the NBA in FG% last season, and we have seen the best of C Joakim Noah after eight NBA seasons. Noah shot a career-low 45% from the field in 2014-2015, and he had less than half the amount of dunks this past season as he did in 2013-2014.
Portland Trail Blazers (#23): The Trail Blazers had a top-ten defense last year, but they slipped once SG Wesley Matthews (unrestricted FA) tore his Achilles, and Portland forced the fewest turnovers in the league for the second straight season despite a career-high 97 steals from All-Star PG Damian Lillard. In addition to Matthews, SG Arron Afflalo and C Robin Lopez are back-burner free agents, while All-Star PF LaMarcus Aldridge hits the open market as well. Portland has already traded SF Nicolas Batum for SG Gerald Henderson and PF Noah Vonleh, the eighth pick of the 2014 NBA Draft. Vonleh is the second lottery PF Portland has acquired after that player's rookie season in the last three years. 7
Cleveland Cavaliers (#24, #53): For the first time since 2010, the Cavaliers don't have a top-five draft pick! Cleveland is similar to Portland, in that they could use a player who can force turnovers; the Cavaliers were in the bottom-ten in the NBA during the season in forcing turnovers despite a career-high 114 steals from All-Star PG Kyrie Irving. Irving is the only notable Cavalier locked up long-term, as SF LeBron James, PF Kevin Love, and SG J.R. Smith can opt out of their deals, while PF Tristan Thompson, SG Iman Shumpert, and PG Matthew Dellavedova are unrestricted FAs.
Memphis Grizzlies (#25): The Memphis Grizzlies saw their postseason end exactly like Cleveland – seeing a 2-1 series lead turn into an elimination in six games. The Grizzlies are one team that may want to take some more threes, as they have ranked in the bottom-five of the NBA in threes attempted for seven straight seasons. SG Courtney Lee made 40 percent of his threes last season, but he averaged fewer than three attempts per game. The Grizzlies need to re-sign All-Star C Marc Gasol, an unrestricted FA.
San Antonio Spurs (#26, #55): The Spurs weren't able to win a playoff series after finally getting another championship in 2014, and now PF Tim Duncan and SF Manu Ginobili's contracts are up, in addition to 2014 Finals MVP SF Kawhi Leonard (restricted FA). San Antonio don't crash the offensive boards by design, ranking in the bottom-five for three seasons in a row, but they could use another big man whether Duncan retires or not.
Houston Rockets (#18, #32): The Rockets gave up a first-round pick to the Lakers just to get PG Jeremy Lin's contracts off the books last year, but they got a better pick from the Asik deal. The Rockets have enjoyed PG Patrick Beverley for his defensive intensity, but offensively, he's the Western Conference Mario Chalmers. Meanwhile, the Rockets 8 are annually among the most turnover-prone teams in the league. Making matters more difficult is the fact that Beverley gets hurt every season and is a restricted FA.
Los Angeles Clippers (No picks): The Clippers are the only team in the league right now without a draft pick – their 1st round pick went to Boston for the right to sign head coach Doc Rivers. If the Clippers get a pick, they have a glaring hole in their starting lineup where SF Matt Barnes used to be. The Clippers sold high on Barnes and managed to dump PF Spencer Hawes' contract on Charlotte in exchange for SG Lance Stephenson. Barnes led the Clippers in fouls per game with a career-high 3.2, and the Clippers have needed an upgrade at SF since Corey Maggette was averaging 22 points a game in 2007-2008. The Clippers don't need a go-to scorer at SF as much as they need a versatile player who can defend well enough without fouling. Of course, the Clippers need to also re-sign unrestricted FA C DeAndre Jordan.
Atlanta Hawks (#15, #50, #59): The Hawks were actually a better version of "Spurs East" for most of the season – they even eschewed offensive rebounds "better" than San Antonio, ranking dead last. All-Star PF Paul Millsap is an unrestricted FA, and it's worth noting that the Hawks used the 15th pick in the draft last year on PF Adreian Payne, who was traded in February to Minnesota for a future 1st round pick. SF DeMarre Carroll is also an unrestricted FA.
Golden State Warriors (#30): Golden State's biggest priority is retaining restricted FA PF Draymond Green, but they'll match any offer for the third member of their Big Three. It's worth noting that SF Harrison Barnes is entering a contract year, and that PG Stephen Curry, C Andrew Bogut, SF Andre Iguodala, and PG Shaun Livingston are all up for new deals in 2017. The Warriors were in the bottom-five in free throws attempted this past season, but with just about every member of the rotation coming back, 9 it is hard to see who can possibly add to Golden State's Strength In Numbers.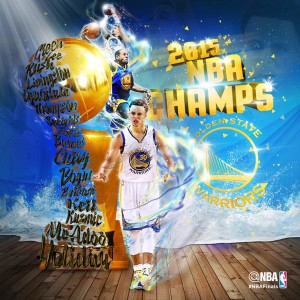 -1SKILLZ
Game 3 FTs: James – 10/12, Warriors – 7/12 ↩
The only PG still to win regular season MVP and Finals MVP in the same season is Magic Johnson, in 1986-1987. ↩
A 7th, SG Brandon Rush, didn't play a single minute in the Finals. ↩
Keith Smart must be a HUGE Mark Jackson fan. ↩
Speaking of "validating" D'Antoni, he has a 1-12 record in the playoffs without Marion, who better be a Hall-of-Famer in 25 years or less. ↩
Portland acquired 2012 5th overall pick Thomas Robinson in 2013 – Robinson was traded in February. ↩
RE: James Harden ↩
Sorry, David Lee. ↩