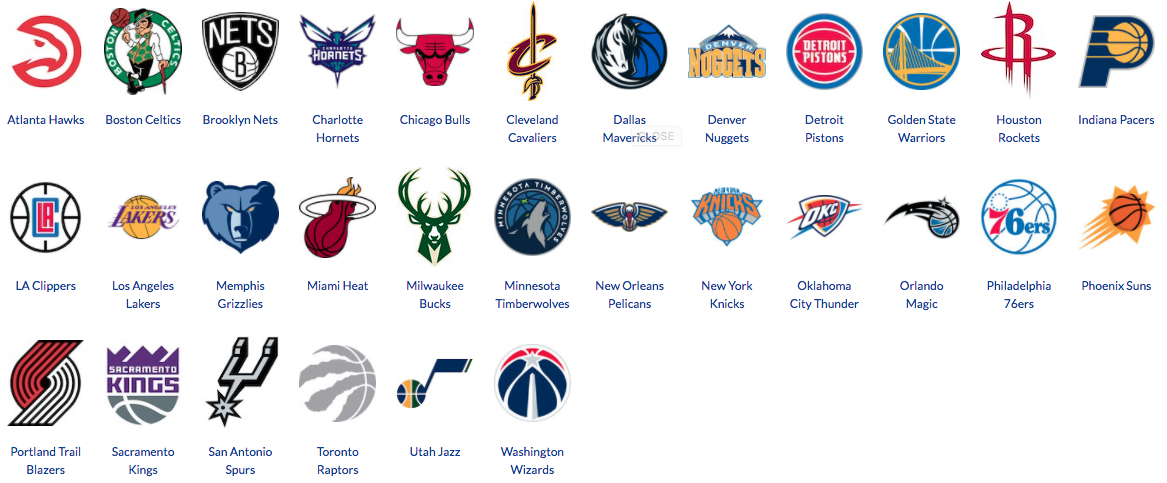 NBA teams have made it past the midpoint of the season, as every team has played at least 48 games. Here are the 16-game splits for games 33-48 (asterisks placed on teams that would make the postseason if only six teams made it per conference):
Each #NBA team's record through the third split of the season.

Asterisks: NFL-style playoff placement

??= Win% trend based on second 16-game split of the season

Only ten teams below .500, but Cavaliers were one of them. pic.twitter.com/OrHag2cPM2

— Law Murray ?? (@LawMurrayTheNU) February 1, 2018
If you haven't seen the START or OLD YEAR reviews from the 2017-2018 season, be sure to check those out as well!
I'm going to run through each team's offensive, defensive, and net rankings (efficiency) from December 27 through January 31. I'll also spotlight the most used lineup for each team from that range. First, the offensive, defensive, and net efficiency rankings for the entire season all in one place:
Atlantic
Philadelphia: (MIDSEASON: 21-20, 2016-2017: 28-54) (6th offense, 4th defense) – B. Simmons/J. Redick/R. Covington/D. Saric/J. Embiid (25.9 net rating in 87 minutes) [All-Star 2018: J. Embiid (Team Stephen starter, World Rising Stars, Skills), D. Saric (World Rising Stars), B. Simmons (World Rising Stars)]
Toronto: (MIDSEASON: 29-12, 2016-2017: 51-31) (7th offense, 5th defense) – K. Lowry/D. DeRozan/O. Anunoby/S. Ibaka/J. Valanciunas (2.9 net rating in 198 minutes) [All-Star 2018: D. DeRozan (Team Stephen starter), K. Lowry (Team Stephen, 3-point)]
Boston: (MIDSEASON: 31-10, 2016-2017: 53-29) (29th offense, 1st defense) – K. Irving/J. Brown/J. Tatum/A. Horford/A. Baynes (12.5 net rating in 75 minutes) [All-Star 2018: K. Irving (Team LeBron starter), A. Horford (Team Stephen, Skills), J. Brown (U.S. Rising Stars), J. Tatum (U.S. Rising Stars)]
Brooklyn: (MIDSEASON: 15-26, 2016-2017: 20-62) (30th offense, 13th defense) – S. Dinwiddie/A. Crabbe/D. Carroll/R. Hollis-Jefferson/T. Zeller (-9.0 net rating in 154 minutes) [All-Star 2018: S. Dinwiddie (Skills)]
New York: (MIDSEASON: 19-22, 2016-2017: 31-51) (20th offense, 23rd defense) – J. Jack/C. Lee/L. Thomas/K. Porzingis/E. Kanter (-11.2 net rating in 164 minutes) [All-Star 2018: K. Porzingis (Team LeBron, Skills), F. Ntilikina (World Rising Stars)]
Central
Milwaukee: (MIDSEASON: 22-19, 2016-2017: 42-40) (12th offense, 8th defense) – E. Bledsoe/M. Brogdon/K. Middleton/G. Antetokounmpo/J. Henson (12.2 net rating in 153 minutes) [All-Star 2018: G. Antetokounmpo (Team Stephen starter), M. Brogdon (U.S. Rising Stars)]
Indiana: (MIDSEASON: 21-20, 2016-2017: 42-40) (13th offense, 10th defense) – D. Collison/V. Oladipo/B. Bogdanovic/T. Young/D. Sabonis (12.2 net rating in 174 minutes) [All-Star 2018: V. Oladipo (Team LeBron), D. Sabonis (World Rising Stars, Dunk)]
Chicago: (MIDSEASON: 14-27, 2016-2017: 41-41) (18th offense, 27th defense) – K. Dunn/J. Holiday/D. Valentine/L. Markkanen/R. Lopez (-6.7 net rating in 176 minutes) [All-Star 2018: L. Markkanen (World Rising Stars, Skills), K. Dunn (U.S. Rising Stars)]
Cleveland: (MIDSEASON: 26-15, 2016-2017: 51-31) (19th offense, 29th defense) – I. Thomas/J. Smith/L. James/J. Crowder/K. Love (-22.3 net rating in 101 minutes) [All-Star 2018: L. James (Team LeBron starter), K. Love (Team LeBron)]
Detroit: (MIDSEASON: 22-19, 2016-2017: 37-45) (27th offense, 12th defense) – I. Smith/A. Bradley/R. Bullock/T. Harris/A. Drummond (-12.1 net rating in 140 minutes) [All-Star 2018: A. Drummond (Team LeBron)]
Southeast
Miami: (MIDSEASON: 24-17, 2016-2017: 41-41) (28th offense, 3rd defense) – J. Winslow/W. Ellington/J. Richardson/K. Olynyk/B. Adebayo (17.3 net rating in 104 minutes) [All-Star 2018: G. Dragic (Team LeBron), W. Ellington (3-point)]
Charlotte: (MIDSEASON: 16-25, 2016-2017: 36-46) (15th offense, 6th defense) – K. Walker/N. Batum/M. Kidd-Gilchrist/M. Williams/D. Howard (10.8 net rating in 340 minutes) [All-Star 2018:]
Washington: (MIDSEASON: 23-18, 2016-2017: 49-33) (8th offense, 19th defense) – J. Wall/B. Beal/O. Porter Jr./M. Morris/M. Gortat (11.9 net rating in 233 minutes) [All-Star 2018: B. Beal (Team LeBron, 3-point), J. Wall (Team LeBron)]
Atlanta: (MIDSEASON: 11-30, 2016-2017: 43-39) (26th offense, 17th defense) – D. Schroder/K. Bazemore/T. Prince/E. Ilyasova/M. Plumlee (-12.6 net rating in 212 minutes) [All-Star 2018: J. Collins (U.S. Rising Stars)]
Orlando: (MIDSEASON: 12-29, 2016-2017: 29-53) (9th offense, 28th defense) – E. Payton/E. Fournier/J. Simmons/A. Gordon/B. Biyombo (-10.7 net rating in 214 minutes) [All-Star 2018: A. Gordon (Dunk)]
Northwest
Minnesota: (MIDSEASON: 25-16, 2016-2017: 31-51) (3rd offense, 21st defense) – J. Teague/J. Butler/A. Wiggins/T. Gibson/K. Towns (11.0 net rating in 211 minutes) [All-Star 2018: J. Butler (Team Stephen), K. Towns (Team Stephen)]
Oklahoma City: (MIDSEASON: 22-19, 2016-2017: 47-35) (2nd offense, 14th defense) – R. Westbrook/T. Ferguson/P. George/C. Anthony/S. Adams (-5.6 net rating in 168 minutes) [All-Star 2018: P. George (Team LeBron, 3-point), R. Westbrook (Team LeBron)]
Portland: (MIDSEASON: 22-19, 2016-2017: 41-41) (4th offense, 24th defense) – D. Lillard/C. McCollum/E. Turner/A. Aminu/J. Nurkic (7.5 net rating in 193 minutes) [All-Star 2018: D. Lillard (Team Stephen)]
Denver: (MIDSEASON: 21-20, 2016-2017: 40-42) (17th offense, 22nd defense) – J. Murray/G. Harris/W. Chandler/N. Jokic/M. Plumlee (-0.4 net rating in 125 minutes) [All-Star 2018: J. Murray (World Rising Stars, Skills)]
Utah: (MIDSEASON: 17-24, 2016-2017: 51-31) (21st offense, 7th defense) – R. Rubio/D. Mitchell/J. Ingles/T. Sefolosha/D. Favors (-3.6 net rating in 69 minutes) [All-Star 2018: D. Mitchell (U.S. Rising Stars, Skills)]
Pacific
Golden State: (MIDSEASON: 33-8, 2016-2017: 67-15) (1st offense, 25th defense) – S. Curry/K. Thompson/K. Durant/D. Green/Z. Pachulia (-3.1 net rating in 98 minutes) [All-Star 2018: K. Durant (Team LeBron starter), S. Curry (Team Stephen starter), D. Green (Team Stephen), K. Thompson (Team Stephen, 3-point)]
LA: (MIDSEASON: 20-21, 2016-2017: 51-31) (11th offense, 9th defense) – M. Teodosic/L. Williams/T. Wallace/B. Griffin/W. Reed (-2.6 net rating in 57 minutes) [All-Star 2018: L. Williams (Skills), T. Harris (3-point)]
Los Angeles: (MIDSEASON: 14-27, 2016-2017: 26-56) (23rd offense, 20th defense) – L. Ball/K. Caldwell-Pope/B. Ingram/J. Randle/B. Lopez (-6.7 net rating in 61 minutes) [All-Star 2018: L. Ball (U.S. Rising Stars), B. Ingram (U.S. Rising Stars), K. Kuzma (U.S. Rising Stars), L. Nance Jr. (Dunk)]
Phoenix: (MIDSEASON: 15-26, 2016-2017: 24-58) (25th offense, 30th defense) – T. Ulis/D. Booker/T. Warren/D. Bender/T. Chandler (-24.2 net rating in 56 minutes) [All-Star 2018: D. Booker (3-point)]
Sacramento: (MIDSEASON: 13-28, 2016-2017: 32-50) (24th offense, 26th defense) – D. Fox/B. Bogdanovic/J. Jackson/Z. Randolph/K. Koufos (1.4 net rating in 33 minutes) [All-Star 2018: B. Bogdanovic (World Rising Stars), B. Hield (World Rising Stars)]
Southwest
New Orleans: (MIDSEASON: 21-20, 2016-2017: 34-48) (14th offense, 11th defense) – R. Rondo/J. Holiday/E. Moore/A. Davis/D. Cousins (-0.3 net rating in 216 minutes) [All-Star 2018: D. Cousins (Team LeBron starter), A. Davis (Team LeBron starter)]
Houston: (MIDSEASON: 30-11, 2016-2017: 55-27) (5th offense, 15th defense) – C. Paul/E. Gordon/T. Ariza/R. Anderson/C. Capela (-1.6 net rating in 86 minutes) [All-Star 2018: J. Harden (Team Stephen starter), E. Gordon (3-point)]
San Antonio: (MIDSEASON: 27-14, 2016-2017: 61-21) (22nd offense, 2nd defense) – D. Murray/B. Forbes/K. Anderson/L. Aldridge/P. Gasol (-0.4 net rating in 48 minutes) [All-Star 2018: L. Aldridge (Team LeBron)]
Memphis: (MIDSEASON: 13-28, 2016-2017: 43-39) (10th offense, 18th defense) – T. Evans/A. Harrison/D. Brooks/J. Green/M. Gasol (1.1 net rating in 82 minutes) [All-Star 2018: D. Brooks (World Rising Stars)]
Dallas: (MIDSEASON: 13-28, 2016-2017: 33-49) (16th offense, 16th defense) – D. Smith Jr./W. Matthews/H. Barnes/M. Kleber/D. Nowitzki (-12.6 net rating in 126 minutes) [All-Star 2018: D. Smith Jr. (U.S. Rising Stars, Dunk)]
-1SKILLZ