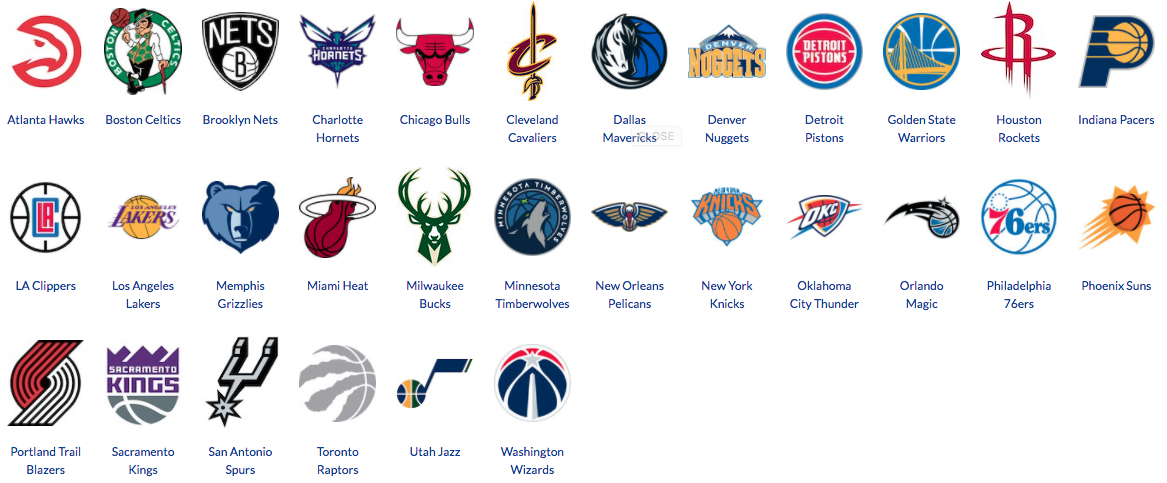 Our first of five sub-chapters to this season's NBA Lightweight Report is finally ready for release!
Each #NBA team's record through the 1st 16 games of the season.

Asterisks: NFL-style playoff placement

?? = Win% trend based on last regular season

More teams in the East started over .500 compared to West pic.twitter.com/Afc0dtFo7z

— Law Murray ? (@LawMurrayTheNU) November 23, 2017
The standings above show each team's record through the first 16 games of the season; I'll plan to do 16-game splits throughout the season, with asterisks placed on teams that would make the postseason if only six teams made it per conference (division winners get automatic playoff bids).
I'm going to run through each team's offensive and defensive rankings (efficiency) through November 22. I'll also spotlight the most used lineup for each team. First, the offensive and defensive efficiency rankings for the season all in one place:
Atlantic
Boston: (20th offense, 1st defense) – K. Irving/J. Brown/J. Tatum/A. Horford/A. Baynes (12.1 net rating in 79 minutes) 1
Toronto: (3rd offense, 12th defense) – K. Lowry/D. DeRozan/N. Powell/S. Ibaka/J. Valanciunas (-3.4 net rating in 120 minutes) 2
New York: (11th offense, 17th defense) – J. Jack/C. Lee/T. Hardaway Jr./K. Porzingis/E. Kanter (5.2 net rating in 231 minutes) 3
Philadelphia: (19th offense, 8th defense) – B. Simmons/J. Redick/R. Covington/D. Saric/J. Embiid (29.3 net rating in 126 minutes) 4
Brooklyn: (18th offense, 27th defense) – D. Russell/C. LeVert/D. Carroll/R. Hollis-Jefferson/T. Mozgov (-2.1 net rating in 47 minutes) 5
Central
Detroit: (10th offense, 15th defense) – R. Jackson/A. Bradley/S. Johnson/T. Harris/A. Drummond (-12.3 net rating in 226 minutes) 6
Cleveland: (4th offense, 30th defense) – I. Shumpert/J. Smith/L. James/J. Crowder/K. Love (-14.2 net rating in 80 minutes) 7
Milwaukee: (15th offense, 19th defense) – M. Brogdon/T. Snell/K. Middleton/G. Antetokounmpo/J. Henson (14.0 net rating in 101 minutes) 8
Indiana: (5th offense, 18th defense) – D. Collison/V. Oladipo/B. Bogdanovic/T. Young/M. Turner (-1.7 net rating in 179 minutes) 9
Chicago: (30th offense, 25th defense) – J. Grant/J. Holiday/D. Valentine/L. Markkanen/R. Lopez (-11.1 net rating in 109 minutes) 10
Southeast
Washington: (8th offense, 11th defense) – J. Wall/B. Beal/O. Porter Jr./M. Morris/M. Gortat (1.2 net rating in 169 minutes) 11
Orlando: (14th offense, 16th defense) – E. Payton/T. Ross/E. Fournier/A. Gordon/N. Vucevic (-2.2 net rating in 150 minutes) 12
Charlotte: (13th offense, 14th defense) – K. Walker/J. Lamb/M. Kidd-Gilchrist/M. Williams/D. Howard (12.4 net rating in 108 minutes) 13
Miami: (26th offense, 13th defense) – G. Dragic/D. Waiters/J. Richardson/J. Winslow/H. Whiteside (8.7 net rating in 85 minutes) 14
Atlanta: (22nd offense, 26th defense) – D. Schroder/K. Bazemore/T. Prince/L. Babbitt/D. Dedmon (3.1 net rating in 71 minutes) 15
Northwest
Minnesota: (6th offense, 23rd defense) – J. Teague/J. Butler/A. Wiggins/T. Gibson/K. Towns (5.7 net rating in 415 minutes) 16
Portland: (23rd offense, 2nd defense) – D. Lillard/C. McCollum/M. Harkless/A. Aminu/J. Nurkic (4.0 net rating in 109 minutes) 17
Denver: (7th offense, 22nd defense) – J. Murray/G. Harris/W. Chandler/P. Millsap/N. Jokic (12.0 net rating in 224 minutes) 18
Oklahoma City: (16th offense, 3rd defense) – R. Westbrook/A. Roberson/P. George/C. Anthony/S. Adams (5.6 net rating in 220 minutes) 19
Utah: (24th offense, 5th defense) – R. Rubio/R. Hood/J. Ingles/D. Favors/R. Gobert (-11.2 net rating in 108 minutes) 20
Pacific
Golden State: (1st offense, 7th defense) – S. Curry/K. Thompson/K. Durant/D. Green/Z. Pachulia (16.9 net rating in 182 minutes) 21
Los Angeles: (27th offense, 4th defense) – L. Ball/K. Caldwell-Pope/B. Ingram/K. Kuzma/B. Lopez (-2.4 net rating in 216 minutes) 22
LA: (12th offense, 21st defense) – P. Beverley/A. Rivers/D. Gallinari/B. Griffin/D. Jordan (8.3 net rating in 147 minutes) 23
Phoenix: (25th offense, 28th defense) – M. James/D. Booker/T. Warren/M. Chriss/T. Chandler (2.5 net rating in 103 minutes) 24
Sacramento: (29th offense, 29th defense) – G. Hill/G. Temple/B. Bogdanovic/Z. Randolph/W. Cauley-Stein (-21.3 net rating in 102 minutes) 25
Southwest
Houston: (2nd offense, 9th defense) – J. Harden/E. Gordon/T. Ariza/R. Anderson/C. Capela (23.7 net rating in 174 minutes) 26
San Antonio: (17th offense, 6th defense) – P. Mills/D. Green/K. Anderson/L. Aldridge/P. Gasol (10.0 net rating in 130 minutes) 27
New Orleans: (9th offense, 20th defense) – J. Holiday/E. Moore/D. Cunningham/A. Davis/D. Cousins (6.6 net rating in 186 minutes) 28
Memphis: (21st offense, 10th defense) – M. Conley/A. Harrison/J. Ennis III/J. Martin/M. Gasol (-5.1 net rating in 92 minutes) 29
Dallas: (28th offense, 24th defense) – D. Smith Jr./Y. Ferrell/W. Matthews/H. Barnes/D. Nowitzki (-25.2 net rating in 82 minutes) 30
-1SKILLZ