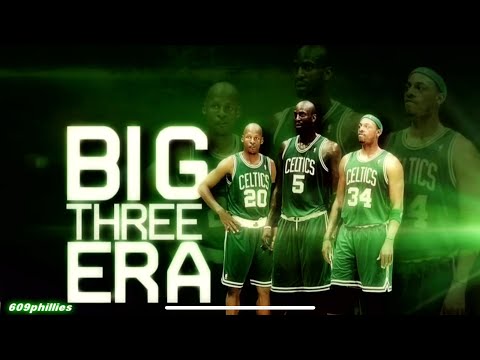 I have always been interested in the construction of NBA teams and the formations of lineups. A team puts five players on the floor. Naturally, a team would have an advantage if they have at least three of the five best matchups. There has to be an ideal balance to the players – ideally, one big, one scorer, one passer/shooter. In an eight-man rotation, you find five players who complement your big three.
Now, most "Big 3s" only get that kind of appraisal if they are part of a championship team. While this is understandable, I feel like all teams are defined to some extent by the best three players on the team. In fact, here is my total hierarchy:
A. Big 3 (90% impact)
B. Remaining Starters (70% impact)
C. Remaining Rotation (50% impact)
D. Active Bench (30% impact)
E. Inactive Roster (10% impact)
The other thing that a Big 3 does is that it helps to define an era in a franchise's history. So what I want to do here is drop the best "Big 3" in every team's history, with one caveat: They must be currently playing in that location. Now that I have your attention:
Celtics (Russell, Havlicek, Jones): Six titles in seven years together. Celtics have won six titles total after Russell and Jones retired in 1969.
Knicks (Reed, Frazier, DeBusschere): 1968-1974. Won both of New York's titles.
Pistons (Thomas, Dumars, Laimbeer): 1985-1994. Won both of Detroit's titles. You know how I feel about this team.
Lakers (Johnson, Abdul-Jabbar, Worthy): Three first overall picks on the same team! Three titles in seven years, each player won one Finals MVP each in that span.
76ers (Malone, Erving, Toney): 1982-1986. Won title first year together.
Warriors (Barry, Wilkes, Ray): 1974-1977. Won only Bay Area title first year together.
Hawks (Hudson, Bridges, Caldwell): Since moving from Saint Louis in 1968, the Hawks have only made it to the Conference Finals twice. None since these three All-Stars broke up in 1970.
Kings (Webber, Stojakovic, Bibby): The Kings franchise won a title back in 1951, when they were the Rochester Royals. In 29 years in California, the Kings have only been to one Conference Finals – the first year Bibby joined the team.
Wizards (Unseld, Hayes, Dandridge): Another Big 3 that won a title in first year together (1978). Broke up in 1981, and Bullets/Wizards have won only two playoff series since.
Bulls (1998: Jordan, Pippen, Rodman): Say what you want about the quality of the league, but from 1995-1998, these old Bulls lost 56 games. Combined. Regular season and playoffs.
Rockets (Olajuwon, Drexler, Horry): There were more star-studded trios in Houston, but as a sixth seed, this Big 3 allowed Houston to defend its championship in 1995.
Thunder (Durant, Westbrook, Harden): In three years, this group went from lottery team to NBA Finalist. Then, like the Sonics in Seattle, it was over.
Suns (Barkley, Johnson, Majerle): 1992-1995. Team won Western Conference as soon as Barkley showed up.
Bucks (Abdul-Jabbar, Robertson, Dandridge): Yet another "Big 3" that won a championship in first year together (1971). And yes, Bobby Dandridge is on two teams, like Abdul-Jabbar. Surprised?
Trail Blazers (Walton, Lucas, Hollins): The Trail Blazers went from never making the playoffs to being the youngest NBA champions ever once Maurice Lucas joined the team in 1976. Unfortunately, Walton's injury and departure killed a potential dynasty after only two years.
Cavaliers (James, Ilgauskas, Hughes): This was as close Cleveland would get to an NBA title. This group won the Eastern Conference in 2007 before Hughes left in the middle of the following season.
Clippers (2014: Paul, Griffin, Jordan): The Clippers have made the playoffs three straight seasons for the first time since moving to Los Angeles in 1984.
Jazz (Malone, Stockton, Hornacek): This group won two Conference titles in seven seasons together.
Nuggets (Anthony, Billups, Nene): Billups' arrival in 2008 propelled Denver to its only postseason success over the last 20 seasons.
Pacers (Miller, Smits, Rose): 1996-2000. Made franchise's only Finals appearance in Smits' last season.
Spurs (Duncan, Parker, Ginobili): This Big 3 is in their 12th year together. Arguably the greatest trio in NBA history.
Nets (Williams, Lopez, Johnson): Jason Kidd led the Nets' best teams in New Jersey, but now he has to help these three make their mark in Brooklyn.
Mavericks (Nowitzki, Kidd, Terry): Five seasons together, one NBA title in 2011 over a much more celebrated Big 3.
Heat (James, Wade, Bosh): Attempting to become the first team since 1980s Celtics to win four straight Conference titles.
Pelicans (Paul, West, Stojakovic): 2006-2010. The 2007-2008 team is only one to win a playoff series in New Orleans.
Timberwolves (Garnett, Cassell, Sprewell): 2003-2005. Only team to advance past first round of the playoffs.
Magic (Howard, Lewis, Nelson): In 2009, all three players were All-Stars, and the team won the Eastern Conference title despite an injury to Nelson.
Raptors (Carter, Davis, Oakley): 1999-2001. As of now, these three represent the most successful era in franchise history, as this group is the only one to win a playoff series.
Grizzlies (Randolph, Gasol, Conley): This group is still together, and responsible for all of the franchise's postseason success.
Bobcats (Jefferson, Walker, Henderson): This is Charlotte's current Big 3, and they'll all be Hornets next season. Their next playoff win will be the franchise's first.
-1SKILLZ