Warning: I'm in my bag on this one…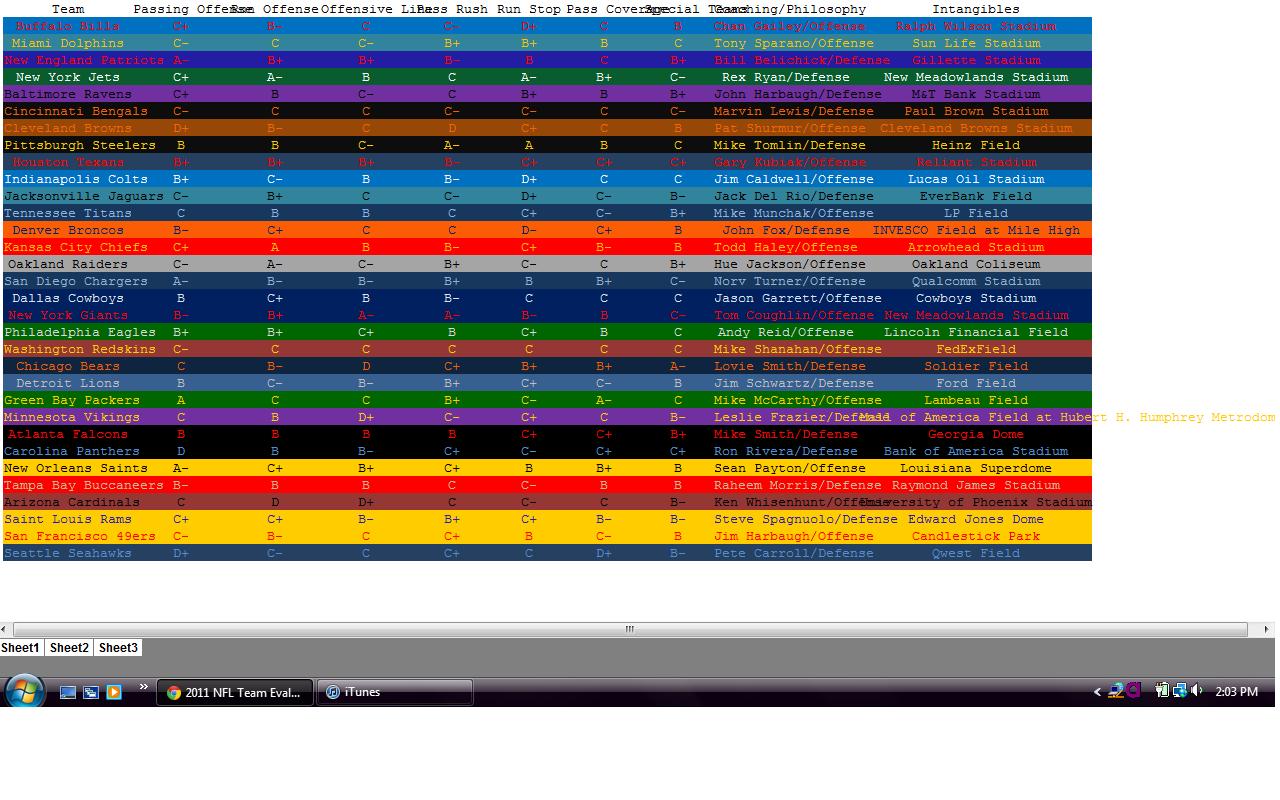 Above is a sample of the work I put in to get ready for every NFL season.  July is a boring month for me as far as sports is concerned.  Pro basketball and football are my "1" and "1-A" when it comes to sports I follow.  Since the NBA Finals ends in June and the NFL preseason doesn't start until August, that leaves me with baseball in July, and I'm more likely to sleep through an MLB All-Star game than anything else.  July is a great month for me to leave my television off and enjoy the summer.  Or, this year, not enjoy the summer so much.
Usually, I spend July getting done a lot of NFL stuff just so I can pick all 256 regular season NFL games.  Typically, I do some subjective evaluations taking into account quantitative data (statistics) as well as qualitative data (offseason adjustments that every team has to make, such as coaching, roster decisions, and other intangibles).  Sure, I pick all of the games and from there try and predict playoff teams and a champion.  But more than any other professional sport, the NFL is a crapshoot.  In the NBA, you know who's going to be good and bad over the course of a season for the most part (see how I pick the Miami Heat to lose the NBA Finals in 6 games back in October – while ignoring the team I said they would lose to).  Every NBA team plays the other teams at least twice during the season.  The NFL is tricky though because a team only has 13 opponents during the regular season, and one NFL game is worth five NBA games.  Depth in the NFL is also a significant intangible that is very difficult to predict given the high nature of injuries in football (and conversely, the fact that depth on every team is stretched far too thin in a 32 team league that has no viable minor league – sorry UFL/AFL/CFL).
This year, there was a new wrinkle that pushed my work way later in the summer than it has ever been: the NFL lockout.  It's simply impossible and fruitless to go about making reads on an NFL season when there is a transaction freeze, yet major publications like The Sporting News and Lindy's released season previews in June anyway.  (And I bought them still, but that's beside the point.)  But once the lockout ended, I made a point to pay attention to the furious wave of free agency and training camp preparations.  Once the preseason started, I decided to start going to work.
Now, you're probably (not) asking why this is called the Hypothesis Report.  Especially considering that science was consistently my worst subject in school.
As I explained earlier, predicting sports is a lot like predicting the weather, if not less reliable.  But meteorologists don't get paid to tell you that it's going to rain.
I'll share with you my picks, but understand that it is simply a hypothesis; a barometer if you will.  I predict all of these games before the regular season and don't change a single pick until the playoffs, no matter how drastically different a team can get over the course of a season.  In the scientific method, my hypothesis are these predictions based off of nine factors: passing offense (offense), rushing offense, offensive line, pass rush, run stop, pass coverage (defense), and special teams, as well as coaching and intangibles.  I don't grade the last two factors but they figure into my game-to-game matchups.  The games are the experiment that tests every prediction.  Crazy stuff happens in games, and it's a field day for people like me to break it all down.  That's where I go to work: ANALYSIS.  Now, I "only" went 146-110 last year.  Not bad, but I've had better years.  Like the NBA season, I predicted the Steelers to lose the Super Bowl, but the team I had beating them got their coach fired at midseason.  That's not to say I don't hold myself accountable for my outrageous methodology.  In fact, it's a goal of mine to get mentioned in one of Gregg Easterbrook's annual bad predictions reviews.
That is my spiel on what I do.  Now for controversy (with only one sentence per team for now since you won't read much more):
AFC
EAST: New York Jets (12-4, 3rd in AFC), New England Patriots (12-4, 5th in AFC), Miami Dolphins (5-11), Buffalo Bills (5-11).
I don't think the Jets improved as much, but they're a bullish team with a system that works in the trenches.  The Patriots are very intriguing because of their additions (WR Chad Ochocinco, DT Albert Haynesworth), but they need to show they can get off the field defensively.  The Dolphins have one of the best front sevens in the NFL, but they might struggle to move the ball this season.  The Bills are going to be fun to watch, but that just means they might continue to give up more highlights and career days from the skill players they face as well.
NORTH: Pittsburgh Steelers (13-3, 1st in AFC), Baltimore Ravens (11-5, 6th in AFC), Cleveland Browns (4-12), Cincinnati Bengals (2-14).
The Steelers have a defense and QB in Ben Roethlisberger that assures them that they'll be in every game.  Getting overweight LT Bryant McKinnie and inconsistent WR Lee Evans is boom or bust for a Ravens team that needs to also improve their weak pass rush.  The Browns may have the slowest team in the league defensively, while their offense threatens to overwork RB Peyton Hillis.  I'm predicting the Bengals to be the worst team in the NFL this year; there is no real team strength here as they prepare to start a rookie QB in Andy Dalton.
SOUTH: Houston Texans (11-5, 4th in AFC), Indianapolis Colts (10-6), Tennessee Titans (7-9), Jacksonville Jaguars (3-13).
The Texans have one of the worst clutch ratings in the NFL, but they have taken significant steps towards improving their entire defense.  I think this is the year the Colts get dethroned; they're not a bad football team, but they're concerned about QB Peyton Manning (neck) and they still have a lightweight defense.  The Titans have an issue on hand with a new QB (Matt Hasselbeck), a new coaching staff, and a holdout star at RB (Chris Johnson).  The Jaguars have a great RB in Maurice Jones-Drew, but they also have a QB controversy and a defense that has slipped five years in a row (from 2nd in 2006 to 28th last season).
WEST: San Diego Chargers (12-4, 2nd in AFC), Kansas City Chiefs (9-7), Oakland Raiders (6-10), Denver Broncos (5-11).
The Chargers should have made the playoffs last year; QB Philip Rivers has a healthy TE Antonio Gates and a signed WR Vincent Jackson, while the special teams can't possibly blow them the division again, can it?  The Chiefs, on the other hand, have a lot to prove offensively without Charlie Weis.  I want to like the Raiders (RB Darren McFadden is a real threat and they have a fierce pass rush), but they lost two of their best players on both sides of the ball in TE Zach Miller and CB Nnamdi Asomugha.  Beneath all of the Tim Tebow controversy in Denver is the fact that the Broncos might lose a lot of battles in the trenches this year, and John Fox is not a coach that prefers high-scoring affairs.
AFC WILD CARD: Jets over Ravens, Patriots over Texans.
AFC DIVISIONAL: Patriots over Steelers, Jets over Chargers.
AFC CHAMPIONSHIP: Jets over Patriots.
NFC
EAST: New York Giants (13-3, 2nd in NFC), Philadelphia Eagles (11-5, 6th in NFC), Dallas Cowboys (9-7), Washington Redskins (2-14).
Folks are writing the Giants off early because of injuries to the defense, but they still have an abundance of playmakers on both sides of the ball.  The Eagles are heavily explosive, but equally fragile offensively; and as good as they are rushing the passer and at cornerback this year, they have major holes at linebacker and safety.  I like the Cowboys offense to be back to normal with QB Tony Romo healthy, but it remains to be seen if another defensive playmaker will emerge besides OLB DeMarcus Ware.  Redskins head coach Mike Shanahan better have a plan because they've weeded out a lot of players as casualties of his system on both sides of the ball.
NORTH: Green Bay Packers (11-5, 3rd in NFC), Chicago Bears (10-6), Detroit Lions (7-9), Minnesota Vikings (3-13).
The Packers will go into their title defense with the same strong passing attack and pass defense.  The Bears have one of the best defenses and special teams in the NFL, but their offensive line will hold them back all season, no pun intended.  The Lions are probably still another year away; the faster they get to the QB this year the better (for the secondary's sake).  I don't like new Vikings QB Donovan McNabb's chances behind one of the worst offensive lines in the league, even with RB Adrian Peterson.
SOUTH: New Orleans Saints (14-2, 1st in NFC), Atlanta Falcons (11-5, 5th in NFC), Tampa Bay Buccaneers (8-8), Carolina Panthers (4-12).
The Saints are loaded on both sides of the ball; if their first round picks come through (RB Mark Ingram and DE Cameron Jordan) and they improve their turnover differential (less INTs for QB Drew Brees, more takeaways from the defense on a 2009 level), watch out.  I like the Falcons getting rookie WR Julio Jones for their offense and DE Ray Edwards for their defense.  I think the Buccaneers are going to keep taking steps towards the playoffs, but it would help if their young defensive line started paying dividends ASAP to help the pass rush and run defense.  For the Panthers, picking between rookie QB Cam Newton and last year's rookie QB Jimmy Clausen is like choosing between Democrats and Republicans.
WEST: Saint Louis Rams (10-6, 1st in NFC), San Francisco 49ers (7-9), Arizona Cardinals (5-11), Seattle Seahawks (3-13).
Let's not overrate the Rams; I just think they have a potentially disruptive defense, and QB Sam Bradford might be allowed to win more games with new offensive coordinator Josh McDaniels.  The 49ers keep changing their offense, but QB Alex Smith is still around for new head coach Jim Harbaugh; he might be gone next year along with disgruntled RB Frank Gore.  Cardinals WR Larry Fitzgerald has a new QB in former Eagle Kevin Kolb, but Kolb might be running for his life with poor protection, suspect defense, and little relief from the running game.  With former Viking QB Tarvaris Jackson, the Seahawks now have the worst QB situation in the worst division in the NFL, not good news for a team that lost all ten of their games by at least 11 points.
NFC WILD CARD: Packers over Eagles, Falcons over Rams.
NFC DIVISIONAL: Saints over Falcons, Packers over Giants.
NFC CHAMPIONSHIP: Saints over Packers.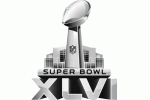 SUPER BOWL XLVI
SAINTS over JETS.
Well, that's all I have to say for now, but I'm at almost 2k on my word count so I need to end this here.  But the shoe has been dropped.  I'll be tracking things all year here, on Twitter, and on NFL Touchdown as I'm still covering the New England Patriots for the time being.  If the question is "Are you ready for some football?", then I will share my answer with Bart Scott:
-1SKILLZ